Belly Motions Belly Dance Fitness
The Belly Motions Fitness format was pioneered and developed by Portia Lange, B.A., AFAA certified group fitness instructor with over 20 years experience. The format fuses authentic Belly Dance movements and music with fitness principles and guidelines to create a unique, safe and effective dance-fitness workout. It's where Belly Dance meets Fitness!
Portia, and her team of trained instructors, have been applying this successful format for over 15 years. The Belly Dance Fitness method is tried and true, fun and enjoyable and reaches the masses making the benefits of belly dancing available to anyone. In addition, IT IS THE ONLY BELLY DANCE FITNESS PROGRAM IN THE UNITED STATES APPROVED BY THE Athletics and Fitness Association of America (AFAA) offering offering AFAA Continuing Education Credits! REACH THE MASSES AND EMPOWER YOUR PARTICIPANTS THROUGH BELLY DANCE FITNESS! This workshop will show you how!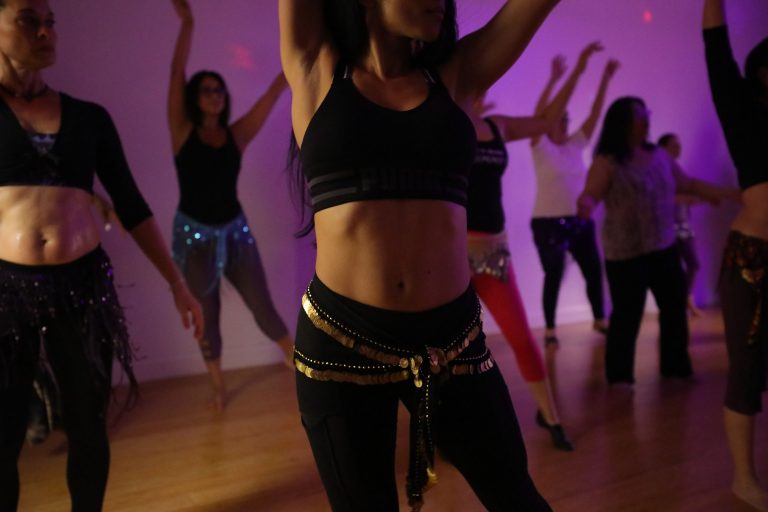 What is the Belly Motions Instructor Training Program?
The Belly Motions Instructor Training is a nationally recognized exercise program approved by the Athletics and Fitness Association of America (AFAA) the leading certifier for fitness professionals in the United States since 1983! The workshop will be lead by Portia Lange, B.A. from the University of Florida, Founder and CEO of Belly Motions, Inc., and AFAA Group Fitness Certified with over 20 years of experience in group fitness and 15 years in belly dance instruction. Joining her will be Miss Luisa Quintana, M.A. from Florida International University, UM Adjunct Professor, Belly Dance choreographer, performer, instructor with 10+ years experience. 
Who should take this training?
Whether you are just starting, or are an experienced pro, this training will take you to the next level. The Belly Motions Fitness Instructor Training is an excellent option for:
Group Fitness Instructors looking to expand their class format options.
AFAA Certified Professionals looking to earn CEU credits.
Belly Dance Instructors looking to take their teaching skills to a new level that reaches the general population, from a fitness perspective.
Serious Belly Dance students interested in teaching Beginner Level classes as a secondary source of income.
How is the Belly Motions format different from others?
From a fitness industry perspective, the Belly Motions Fitness Formatis similar to other dance-fitness formats (such as Zumba) in that it uses dance movements, simple choreographies and motivating music to deliver a fun workout, however, it differs from most formats because it is low-impact (making it accessible to all populations young to old), features unique Belly Dance movements derived from the Middle East (making it unique and attractive), and is taught barefoot (giving a new "feel" and a break from the typical sneakers routine in a dance-fitness class).
From a Belly Dance industry perspective, it is the ONLY Belly Dance Training Program in the United States approved by the Athletics and Fitness Association of America (AFAA) offering AFAA Continuing Education Credits (CEUs)making it a reputable Instructor Training with the backing of an accredited organization. In addition, this format has been utilized for over 13 years at the Belly Motions Dance-Fitness Studio in Miami, Florida reaching thousands of participants and proving its success.
What form of certification does this training offer?
The Belly Motions Fitness Instructor Training will offer a Certificate of Completion for each participant which may be presented to dance studios and fitness centers for future employment. Group Fitness Instructors certified by the Athletics and Fitness Association of America (AFAA) will earn 12 AFAA Continuing Education Credits (CEUs) upon Completion.
Where would this format be taught?
Belly Motions Fitness classes are designed for participants of all ages and fitness levels. The format is intended to appear at dance studios and fitness centers. This dance-fitness format is beginner friendly with an "exercise in disguise" effect that will excite, motivate and empower anyone! The isolation-based movements and low impact nature also make this format the perfect compliment to an existing training program that involves repetitive or high impact movements.
Philosophy
What is Belly Dance?
Posture, Positions and Movements
Music Fundamentals, Cueing, and Choreographing
Belly Dance Music
Class Design, Structure and Format
Your Role As an Instructor
Finding Employment, Marketing and Instructor Guidelines