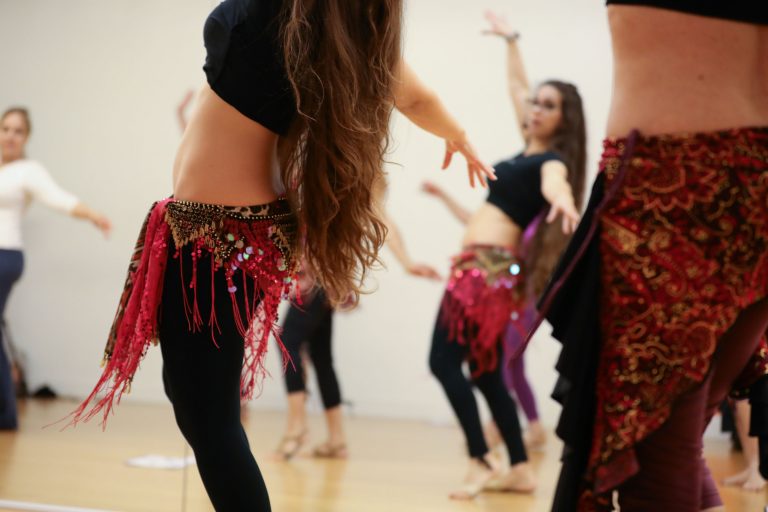 Belly Motions®, Inc. was established in 2005 in Miami, Florida by International Belly Dance Star and Dance-Fitness Instructor Portia Lange.
Over the last two decades, Belly Motions has offered belly dance classes for fun, fitness and community enabling thousands of participants in South Florida and around the globe to experience belly dancing in an exceptional way.
The Belly Motions teaching method, pioneered and developed by it's founder Portia, fuses fitness principles, guidelines and group exercise protocol with authentic Middle Eastern dance movement and music allowing participants of all abilities to experience the joy and benefits of belly dancing. This format is being offered in The Belly Motions Belly Dance Instructor Training Program online for individuals seeking to teach belly dance for fun and fitness. 
Portia's method serves to inspire, motivate and empower women of all walks of life and allows participants of all abilities to learn to belly dance while delivering a low-impact, safe and effective workout.
With over 20 years experience, Portia is highly trained, passionate and warm. She is determined to get your hips in motion while putting a smile on your face!
Her Specializations include: Belly Dance Fitness, Raks Sharqi, Egyptian Oriental, Egyptian Folklore, American Cabaret, Dance-Fitness, Dance Cardio.
It's never too late to learn. Get that belly in motion!
Call or Text Portia!
305.663.1553
Belly Motions has worked with local, national and international organizations, as well as local universities and colleges, on a variety of social, cultural and community events and outreach programs such as:
American Cancer Society / Relay for Life – Coral Gables High School, Homestead, Palmetto Bay, Pinecrest, and others since 2005
AMI Kids – WINGS South Florida 2012
Baptist Health South Florida Foundation 2010
Baptist Hospital – South Kendall Relay for Life since 2011
Barry University – Festival of Nations since 2010
Best Buddies International – Best Buddies Facebook  2008
Bollywood America – Judge for National Finals Competition 2013
Boys and Girls Club of America 2010
Charlee Home for Children 2010
Coral Gables Woman's Club 2009
Cuban National Council –  CNC Facebook – Annual Health, Safety and Wellness Fair 2006-2011
Educate Tomorrow 2009
Fairchild Tropical Gardens 2008
Florida International University, Wertheim Performing Arts Center – Annual Performances since 2008
Girl Scouts of America – St. Phillips Girl Scout Troop 276 – Cultural Education Seminar and dance training 2011
Greater Miami Wellness Center, "Beautiful Shimmies" Project 2006 to 2010 – This volunteered service, music and dance therapy program teaches the Belly Motions Belly Dance Fitness Programs to cancer recovery patients to promote fitness and overall well being.
Hear the Runway Foundation (HTR on Facebook!) with UM Health Systems 2013
Humane Society of Miami – Mega Pet Adoption! since 2012
Miami-Dade College 25th Annual International Book Fair 2008
Miami-Dade College InterAmerican Campus International Students Day since 2012
Miami-Dade County Public Schools Partner – Promoting fitness and cultural education since in 2005
Miami-Dade Cultural Affairs – Cultural Resource since 2011
Miami-Dade Parks & Recreation since 2006
Metro Dade Fire Fighters since 2010
Middle Eastern American Professionals Association since 2005
Nova Southeastern University – Pakistani Students Association 2010
One Hope United – formerly Kid's Hope United since 2009
Our Lady of Lebanon – Annual Festival since 2009
Saint Jude's – Annual Festival since 2006
State of Florida, Department of Health since 2009
Smile and Wave America in conjunction with the Make-a-Wish Foundation 2010
South Miami Hospital Foundation since 2008
Sunil's Home Orphanage annual Fundraising Gala – Donor and Entertainment Sponsor  2009 to 2011
Susan G. Komen Foundation since 2006
Temple Beth David After school classes for girls and special events since 2012
United Chinese Association of Florida; Annual Dragon Boat Festival 2006 to 2009
United Teachers of Dade; Annual Multicultural Celebration since 2013
University of Miami International Students Week with UM COISO since 2006! Miller School of Medicine "Knots of Hope", UM Physical Therapy, UM Law "Hope", Indian Students Association "Miami Mayhem", UM Counseling Center, UM Quantum Entertainment since 2005
Viernes Culturales with Pati Vargas Entertainment