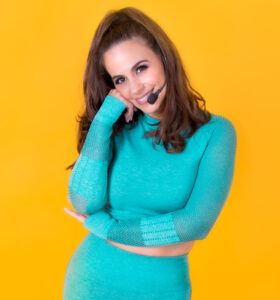 Portia Lange began teaching group exercise while a student at the University of Florida. At 23, she experienced her first Belly Dance class and found her ultimate passion!  In 2005 Portia founded Belly Motions, Inc. a Belly Dance Studio in Miami, Florida that would enable her to soar as an entrepreneur, performer and fitness professional.
Belly Motions has become one of the most successful Belly Dance studios in the United States. For 15 years the company offered World Dance classes at its on-site Miami studio location, booked performers for events, produced large-scale theater shows and launched the MIAMI RAKS FEST, a Middle Eastern Dance festival. 
After the Covid-19 Pandemic, Portia took Belly Motions online and restructured the company to adapt to the new world as well as allow her to serve her clients and spend quality time with her family. Today, Belly Motions offers professional live stream classes to students locally and nationally, on-site group classes at Jill Mallory Dance Studio as well as private and semi-private lessons.
Portia holds the First-Place title in the Nile Group Oriental Belly Dance Competition (2008 Cairo, Egypt), has been honored as Miami Herald's Top 20Under40 Emerging Business Leaders of South Florida and has appeared on two covers of ELLE Oriental, the number one fashion magazine in the world.  She has been featured on local and national networks such as TLC, HGTV, Telemundo and Univision promoting the art and benefits of Belly Dancing.
Over the years Portia pioneered a teaching methodology combining authentic Belly Dance movements with fitness principles to create a fun, safe and effective dance-fitness format designed to teach anyone how to Belly Dance. She now shares this methodology in her Belly Dance Fitness Instructor Training Program.
Today Portia continues to teach bringing movement, joy and laughs to those who follow her.  She is happily married to Arturo and the proud mother to Leo, 5 years old and Meliha, 4 years old.
Contact Portia! [email protected] | 305.663.1553